I know most of the type masters here ordinary don't design Arabic fonts. But what I'm trying to say is a general and technical question and I try to make it short.
In Persian / Arabic fonts we have 4 forms (initial, medial, final and isolated) and also we have letters that are exactly identical with tiny differences like dots. But despite the fact that designers copy one to other glyphs or make a component and use that, we have to have too many glyphs. 
You can see here that we have ب ـب ـبـ بـ and also their brothers پ ـپ ـپـ پـ and ت ـت ـتـ ـتـ and ث ـث ثـ ـثـ and نـ ـنـ and یـ ـیـ and ئـ ـئـ! Also ر ـر and her sisters ز ـز and ژ ـژ.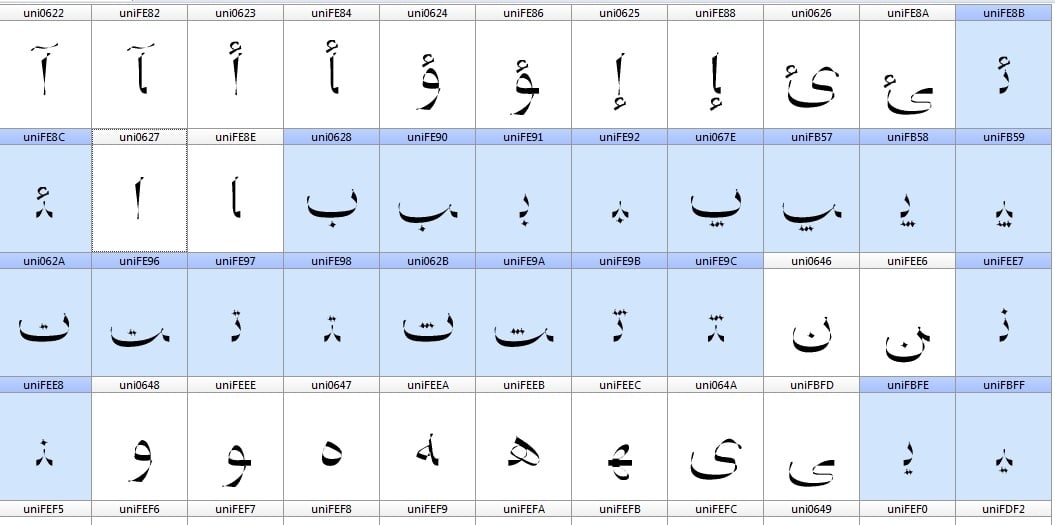 All the same with just dots on top or bottom. Why all those glyphs? I mean technically. 
So one mistake have been made ears ago when they created the first digital Arabic font system which was the 4 formation thing that has no basis according to the alphabet. In Persian / Arabic alphabet we only have 2 forms: 
Initial 
and 
final
. (A different final which could be final or isolated!) When you learn Persian in schools 
there is no medial and final forms.
 So because they were lazy and desperate to attach letters together with the most easiest way they created a bunch of letters (glyphs) that made the Persian / Arabic type design more time-consuming. A lot of new "letters/glyphs" was added to fonts. If you think about it in Latin you don't have this. You don't have glyphs that are not in the original alphabet. You have uppercase and lowercase which everybody uses in a real life. We Persians do not write down medial and final forms per se, we write an initial and when it goes to the final form the pen automatically creates a link between them. That's why we call it cursive.
In movable type and typewriters for Arabic there were no medial and final forms either.
So the second mistake is (I think) creating glyphs for letters that are identical. Could we at least think about the fact that we could have had one dotless Beh (which exists btw) and then add dots to that? Couldn't it be easier creating fonts with much less glyphs and probably file size?
So here me thinking out loud:
I saw a font that did something like this but it needs a software and only works on some applications and a lot of other things. But my approach/proposal is this:
1- We design some dotless glyphs. All similar letters have only one glyph set.


2- We create a joint. (or some other name) This joint removes the need for medial and final glyphs forever. Initials and isolated forms simply connect to other glyphs by this joint glyph.


3- We design 4 glyphs for dots. 1, 2 top dots and 1, 2 below dots with different anchors. (We can use them both to create 3 dots) These glyphs should be marks. (diacritics) 


4- We use mark to base and mark to mark positioning to put dots on top of and below the dotless glyphs. 

5- And we make the font in a way that automatically does this: When a user types ب with keyboard the font shows a dotless ٮ with a below dot. So there is no need to put all those glyphs in the font.



Boom!
Maybe you can skip the 2 because some of the fonts have somehow "unique" medial forms which couldn't be produced by a default joint and an initial form.
If we use all of these, a Persian / Arabic font could be much more smaller in size and the glyph numbers. And on top of that it would be 
more clean and logical.

Note: I know that there are letters in Latin that are almost identical with marks on top or bottom, and designers do this all the time for A, À, Á,... but the final font has those glyphs at the end. My main goal is we remove all identical glyphs and just put marks on top of them. Maybe it's something beyond type design?
I somehow did this for Persian except the joint which I don't how to manage it with dotless glyphs and dots. Also I want to go a little far with "Smart ligatures"! I created the term just now!
By smart I mean this:
A ligature can be modified with marks (in our case dots) based on different inputs by user. I mean like the dotless example we only use one ligature and then change it and add dots to it based on different glyphs that has been entered. It will save a lot of time and glyphs I guess. 
Actually I don't know about this and maybe there is something like this already. If there is I would be glad if you could help me find it.
I hope it wasn't boring after all. What do you think? Is it all unnecessary or there is no need to remove all those glyphs and life is good?
This is my Twitter: 
@si47ash