A new version of DTL OTMaster (OTM), the highly sophisticated tool for reviewing, editing, and altering tables and glyphs of fonts with a SFNT-file structure, has become available since today. OTM is a must-have for professional font developers. To quote Adam Twardoch, product and marketing manager at Fontlab Ltd.: '
OTMaster works with surgical precision: it will only modify the portions of the font that the developer wishes, leaving all other structures unchanged. This makes OTMaster a great companion to any font editor and an indespensable element even in the most complex OpenType font production workflow.
'
Version 5.0 contains a range of additional functionality, among which:
— New powerful
Text Viewer
, which includes Harfbuzz for the interpretation of OpenType Layout features. It contains a nice three-state features selector (on / default / off).
— Support for all the competing color OpenType font extensions: Microsoft's 'COLR'/'CPAL', Adobe's 'SVG', Apple's 'sbix', and Google's 'CBDT'/'CBLC'.
— Updated
Font Viewer
, containing now a search field for glyphs, unicodes...
— Updated
Side by Side Viewer
, which contains among other new options, a 'Winding fill' as opposed to the standard fill option.
— Enhanced and now fully mature
Glyph Editor
(basically a compact version of DTL FontMaster), with improved guideline and grid functionality, improved measurement options, new clipboard with support for multiple entries, etcetera, etcetera.
DTL OTMaster 5.0 is available for Mac OS X, Windows and Linux. Please note that because of the inclusion of Harfbuzz the lowest supported Mac OS X version is Lion (instead of Snow Leopard in case of version 3.7) now.
From today on until the 6th of January 2015, OTM 5.0 can be purchased with a special 25%
Christmas-holiday
discount. Current 3.7 licensees are eligible for an upgrade against € 7.50 administration and handling costs. FontLab Ltd. customers can do this via FL Ltd.'s
website
and DTL customers can apply for this via DTL's
FontTools shop
. Registered users owning any other previous versions can upgrade for € 50.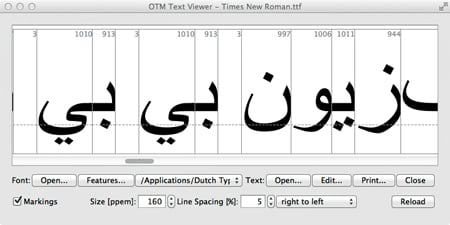 DTL OTMaster 5.0 can be purchased directly from FontLab Ltd. and DTL's FontTools shop (web addresses are mentioned above).