In this post I'll show just fixtures for holding punch blanks and counterpunches for counterpunching.  Fixtures for punching matrices will follow in another posting.  It would also be worth collecting images of presses used for driving punches (and fixtures as used in these presses), as in actual practice driving by press displaced striking by hammer the 19th century (but when?)
First, it would appear that Rudolf Koch just put the punch blank in a vise.  This is attested in several illustrations, including the one below from a 1932 article in The Colophon.  I'm sure he did it, and I'm sure it worked.  But this just seems wrong - the punch is completely unsupported from below.  The illustrations don't even show Koch using a blacksmith's leg vise (designed to take blows), but rather an ordinary machinist's bench vise.  But Koch was an artist working in a romantic tradition looking to an imagined past, not a trained industrial punchcutter.  Does anyone know if there is evidence of this method being used in industrial practice?
The first real fixture seems also to be the most practical:  A simple box to hold the punch blank upright.  Here is one made by Stan Nelson, shown in use by him.  In this particular one, the "box" is solid at the bottom (the punch blank's lower (hammer) end is resting on the cast-iron bottom of the fixture, not on the anvil below the fixture).
Note the safety goggles Stan is wearing.
Getting fancier, here is the great English punchcutter Edward Philip Prince shown at a two-part counterpunching fixture.  His hammer seems very light - but certainly he knew his business.  This fixture seems to be mounted on a raised post on his punchcutting bench, right over one of the bench's legs.  Prince was born in 1846, so this photograph would have been taken around 1921, about two years before he died.  He was at that time still actively working as a professional punchcutter.  This illustration is the frontispiece of Avis' 1967 biography of Prince.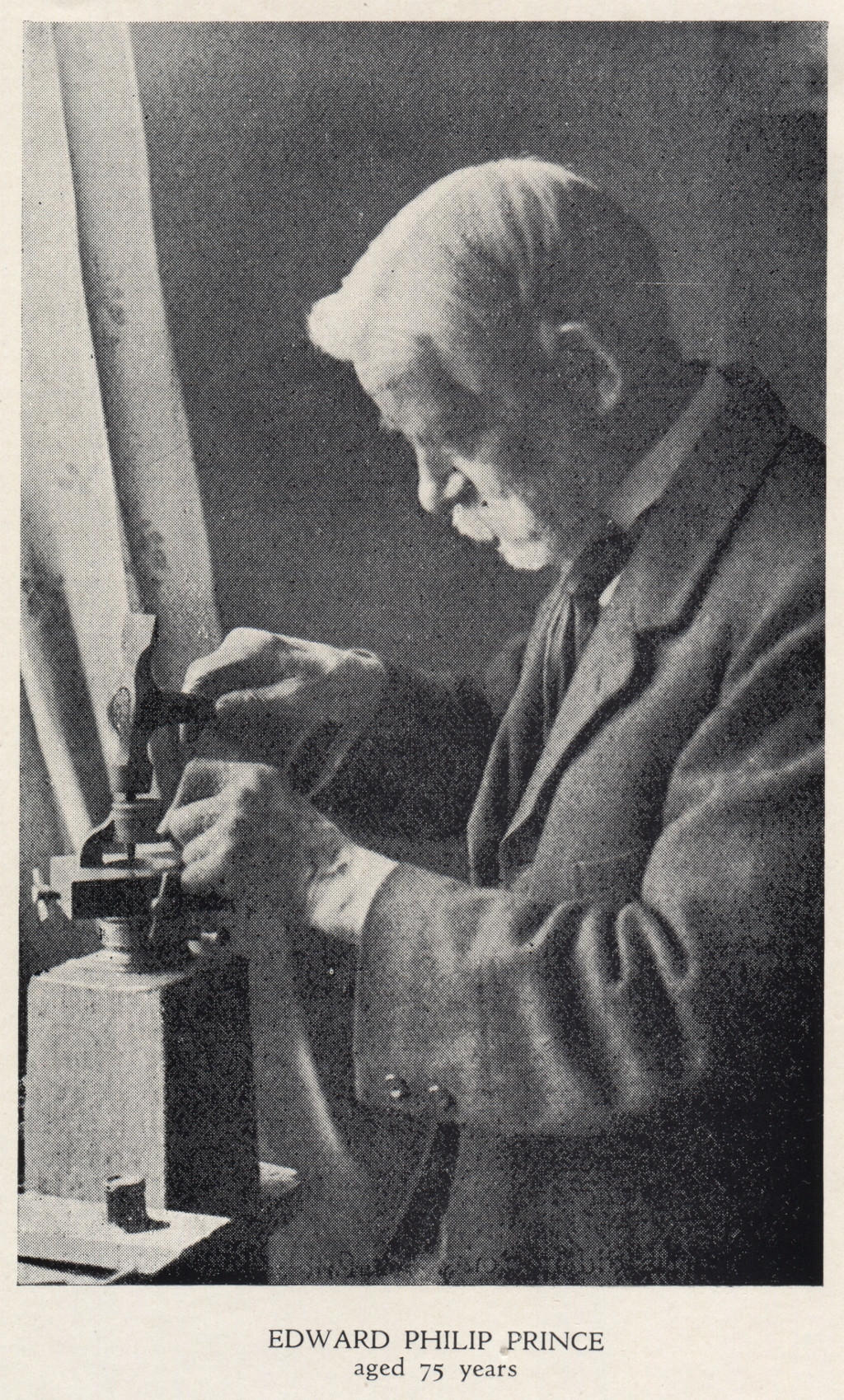 Here's a two-part counterpunching fixture made by Stan Nelson after the one in the photograph of Prince (but the two differ in the method used for adjusting the top portion - in this feature Stan's fixture more nearly resembles the one used by Paul Koch, shown later).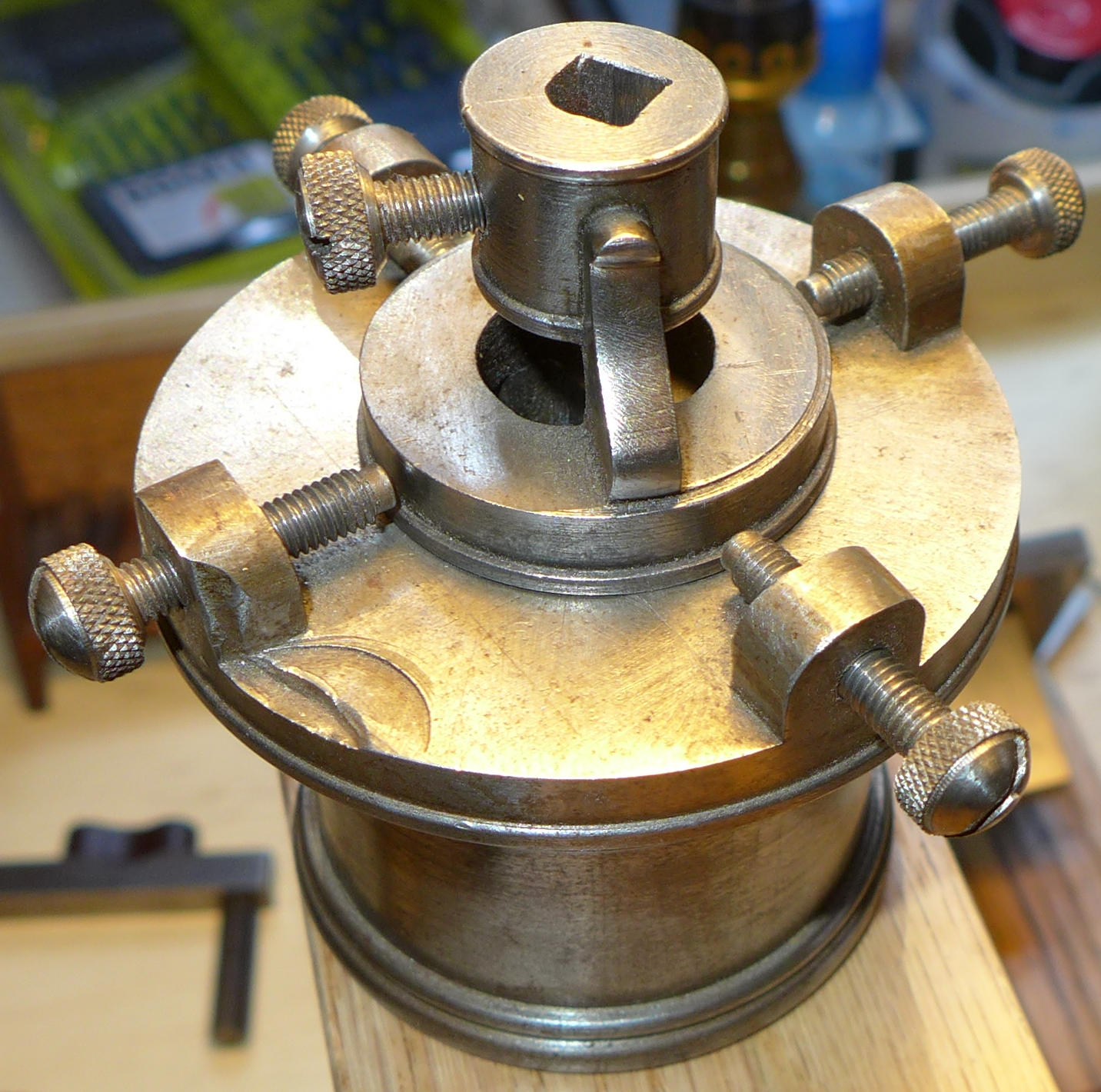 Finally, here is a slightly different two-part counterpunching fixture as illustrated by Fritz Kredel for Paul Koch's 1933 "Dolphin" article.  In it the fixture is held/balanced in the hand and only the hammer-end of the punch rests on the surface/anvil below.
Kredel also illustrated a similar fixture in the specimen for Jessen Schrift (Klingspor, ca. 1934).  A fixture based on this appears in the scarce "Lehrtafel" series of instructional posters by Klingspor, but (if you have these) note that it probably contains an error.  As shown there, the punch blank is supported on all sides by its adjusting screw.  This would be most unstable.  In all of the fixtures shown above the punch blank is firmly pressed against one side of the hole in the fixture.
As before, there are more complete photographs and notes in the "gallery" page at:
http://circuitousroot.com/artifice/letters/press/typemaking/making-matrices/tools-of-the-hand-punchcutter-in-steel/gallery/index.html#counterpunching-fixtures