Maestrale —  a paradigm-breaking calligraphy font
Dear TypeDrawers,
I'm happy to announce the release of my newest font family, Maestrale. Thanks to the commenters on my critique thread for helpful feedback on the text cuts of the family!
Maestrale is a paradigm-breaking new take on calligraphy, built around a compact, serif-style core and outrageously long, flamboyant extenders. At large sizes, its confident, charismatic lettershapes are ideally suited for branding and decorative uses, whereas longer texts at smaller sizes naturally weave themselves into a flowing texture. The font comprises 1299 glyphs, including many stylistic alternates, ligatures, small capitals, and initial, terminal, and linking forms, and offers extensive OpenType programming to support them. The calligraphic form of Maestrale is complemented by a matching text font (Maestrale Text) with short extenders, available in three cuts (a serif-style Roman, an upright Cursive, and a tilted Italic).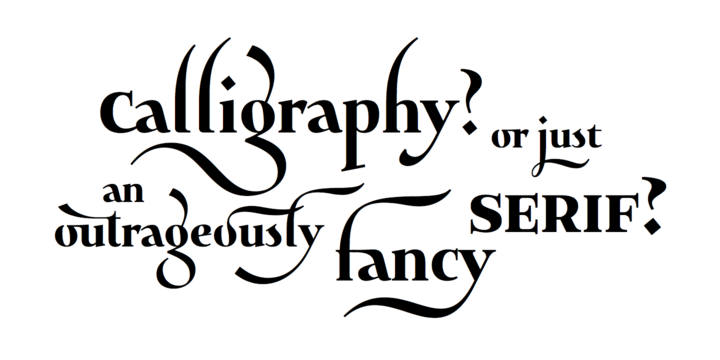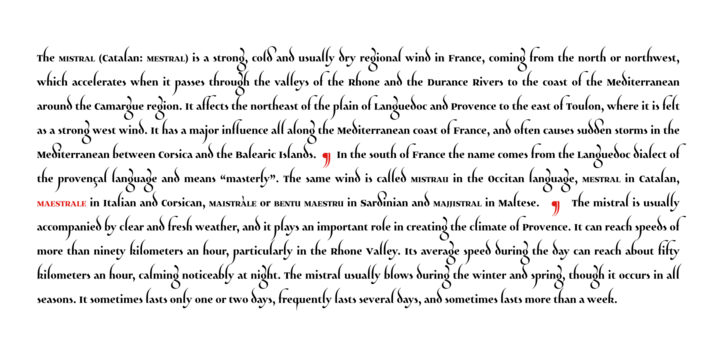 Visit the Behance site for more pictures and information:
http://www.behance.net/gallery/Maestrale-a-unique-calligraphic-font-family/9855321
Or head directly to the MyFonts page:
http://www.myfonts.com/fonts/catharsis-fonts/maestrale/
Kind regards